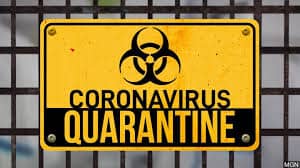 SOCIAL DISTANCHING of three or six feet is all well and good, but the issue of coming into contact with a family member or friend who has corona virus but doesn't know it should be taken very seriously. 
10 things to do while you are in quarantine or self-isolation:
TALK TO FRIENDS
You can call your friend on phone call or you can make Video call like Facetime, Skype call, Zoom, House party, Instagram, whatsapp, Facebook, Googleduo and so many softwares by which you can talk online either voice or video call to avoid one to one meeting.
Work-Out/GYMING at home. 
Can't go to the gym? I have easy solution for everybody. You can turn on your TV and check online on youtube for Gyming exercise or dance number on which you can dance or exercise.
BOOKS ARE BEST FRIENDS
Reading Book or Novel or magazine or even writing if you like. This is easy time to keep yourself busy reading your favourite book, magazine or even online articles.
Watching TV
Netflix, Amazon Primetime, youtube and so many new online channels on firestick. You can keep yourself busy by selecting so many channels, serials, Comedy , Thrillers and so many channels, Movies, Cooking classes and so many thinks to watch time to time to keep your busy and occupied.
PLAY or listend to Favourite MUSIC and Singer.
Music lovers, it is best time to spend time. Play music like Harmonium, guitar, Flute etc  sing songs in family and enjoy the time. To Listen music, there are so many online apps available like gaana, wink, jio music and so many.
POEMS
Write or Listen a poem if you have interest in poems.
NATURE AT ITS BEST.
Best time to spend with nature. Walk around outside in the sun at a healthy distance from other humans (Lawns, parks, etc.) Enjoy the weather and flowers, trees, greenery as green is very soothing.  
COOKING
 Cooking is a passion and who wants to try , this is best time. Make a great YouTube recipe reality and create a meal to be proud of.  It's a good idea to stock up on pasta, rice, canned vegetables, and spices so that more recipes are within reach.
PLAY WITH KIDS INDOOR GAMES
LUDO, SNAKE AND LADDERS, PLAY CARDS, MOBILE GAMES, CHESS, MARBLES, TABLE TENNIS, POOL TABLES , PICTIONARY , PUZZLES, HIDE AND SEEK, LEGO GAMES, TREASURE HUNT, PLAY DOUGH, MUSICAL CHAIR, CHINESE WHISPERS, CAROM, ROCK, PAPER AND SCISSORS,
10.
TIME TO CHECK ON POPULATION
Start a betting pool on how much of a baby boom there'll be due to all of this time on our hands with nothing else to do. 
Some of you may contribute to that boom. And why not? As long as neither of you tests positive (for anything), there are lots of good reasons to do it.  
KEEP YOUR SELF BUSY and STAY HOME TO BE SAFE 
ANKUR GUPTA
SHORI CHEMICALS