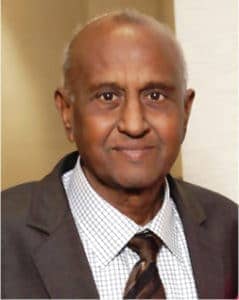 Sh. Raj Paul Gupta of Shori Chemicals was a true legend and well known personality in the screen printing community
Born in 1948, Sh. Raj Paul Gupta, Founder of Shori Chemicals, Ludhiana passed way on 26.2.2015 due to a heart attack. He was a well known personality in the industry. Originally from Amritsar he did his M. Sc. Honors in Chemistry in 1970 from Punjab University. He was known for his expert technical advice, which he used to impart to industry personnel. He was modest by nature and always ready and willing to assist someone through his valuable knowledge and experience. Sh. Raj Paul Gupta started his career immediately after completing his M.Sc. in 1971 with trading of dyes and chemical under the name of M/s Vee Vee Brothers. Then in 1989, he started a new venture called M/s. Shori Chemicals in industrial area, dealing in dyes and chemicals. In a very limited span of time Shori Chemicals was a well established and reputed company serving industries like textile, rubber, paint, plastics, dyeing, finishing, packaging, pharmaceuticals etc. Today, Shori Chemicals is a pioneer dealer of dyes and chemicals and with all his efforts the company is in the top list of dealers of India.
Recently we had an opportunity to talk to him during the knowledge seminar of Graphica Flextronica where he shared his work experience and views on the problems faced in the screen printing industry.
He said, "In 1981 we entered into screen printing. At that time there were just two to three printing units in Ludhiana. Due to huge scope in export textile business was started developing from 1987. As I recall, in 1991 M/s. Nahar spinning mills limited, Ludhiana bought the first automatic screen printing machine in Ludhiana. Since then there was no turning back. Previously, it was just an ancillary industry but now it is a full fledged industry that is grown manifold."
"There are numerous applications of screen printing and the typical problem of this industry is the need of skilled labour. There is a lot riding on manual workers, and the efforts are done to train them but eventually after training they flew off. Due to this the people are diverting from manual to automatic," he added.
His demise is a huge setback for the screen printing industry. He was a true legend in the field and it would be difficult for some to replace his experience and expertise.
We will miss Sh. Raj Paul Gupta. May his soul rest in peace